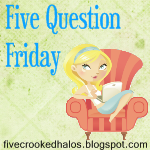 It is Friday and you know what that means...Five Question Friday!!! Five Question Friday is a blog carnival created by
Mama M
over at
My Little Life
. After reading my answers to THE 5 questions, head on over to
Mama M's
blog and read her answers or just link up to
McLinky
here at the bottom and play along.
1.
Are you a Black Friday shopper?
I have been in the past but this year I am not going to do any shopping on Black Friday.
2.
What was your favorite childhood toy? (Think Easy Bake Oven, Cabbage Patch Kid,

Shrinky

Dinks

, etc.)
My favorite toys were my baby dolls and Barbie dolls. I had two baby dolls that I always played with when I was little. The girl doll I got when I was 3 or 4 and she was the big sister. The boy doll I got the Christmas before I turned 6 and he was the little brother. I never played with just one, they were a set. I still have them to this day.



3.
Favorite Christmas movie?
Christmas Vacation with Chevy Chase.

4.
What is the "must have" item on your Christmas list this year?
I have no Christmas list for myself. I just want my boys and husband to have a wonderful Christmas. I have not had a wish list since I was little.



5.
Do you go all out with decorations or do you keep it simple and classy?
Both! My Christmas colors are

Burgundy

, Pink and Gold and I keep everything in those colors. I use only white lights on my tree and I use red lights in my windows. It takes me forever to decorate because of how specific I am with everything!!! I love it and that's all that matters. I do love homemade ornaments though, my aunt Sharla makes us homemade ornaments almost every year and those are my favorite. Also the ornaments that we have been given or ones I made with my Mamma and sister one year, they all have meaning to them and I love that.