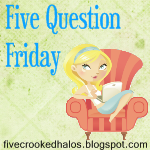 It's time for Five Question Friday which is a blog carnival created by
Mama M
at
My Little Life
. After reading the answers to my 5 Questions click on the button above or on Mama M's link to read her and everyone else's answers. Enjoy!!!
1. What is your favorite "eat" on Thanksgiving?
My Mamma's Sweet Potato casserole. Oh it is so good and now that I know how to make it, it's on!!! Everyone asks me to bring it to any kind of get together :o)
2.
What is the name your best girl friend and the best trait about her or how you met (or heck, both!!)
My best Girl friend is Sigrún. She is the sweetest person, the kind of person that would do anything for everyone including give you the clothes off of her back. She is always there for me if I need her and she is the kind of person who does not beat around the bush...she tells me like it is and I love that about her!!! She is a huge part of my life and I can't imagine not having her. I love you too pieces and thank you for always being there for me!!!
3. What would you say is one of your "weirdest" quirks?
I hate when people wear shoes in my house!!! It drives me crazy!! In Iceland we take our shoes off as soon as we enter someones house, it is really rude to wear your shoes into someone's house and you will probably get told about yourself if you dare walk into a house with shoes on. Well I live in the great US of A and here it is not the norm. Well I

MAKE

everyone take their shoes off when they come into my house and I yell at everyone who doesn't (well maybe not yell but I tell them about themselves!!).
So yeah that is my weird quirk!!!

4. What is your favorite genre of music? (Hip hop? Classical? Rock? etc.)
My favorite kind of music hands down is R&B!!! I love Hip Hop too but R&B is my favorite.
5. Are you a Night Owl...or an Early Bird?
I am a night owl but I want to be an early bird. Does that make sense??? I have always been a night owl and I LOVE to sleep in the mornings but I am really trying to turn that around and be in bed early and get up early. I feel like I get so much more accomplished when I am up at the butt crack of dawn rather than at noon (not that that happens often...just on weekends :o).