Before I get into answering my Five Questions, did you know I have a giveaway going on? You didn't? Well just click
here
for the details :o)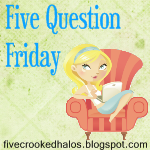 1. Does Santa wrap the presents he leaves at your house?
Yes he sure does and it is a big pain in the rear to have to hide the wrapping paper from the boys. They have seen it too many times and I have had to go out and buy more. This year Santa is going to leave the roll after he finishes wrapping the presents...he's such a sweet

ol'man

:o)

2. When is your "big" Christmas celebration...Christmas Eve or Christmas Day? Tell us about it...
We celebrate on Christmas Eve. The females in the family (in my house that is just me) get up early and head straight to the kitchen and start on the yummy food. The guys will probably watch TV or play video games, cause that's what they do!!! The whole house has to be cleaned from top to bottom (walls, floors, windows, you name it and it will be clean). I usually have the house clean before hand so I do not have to spend Christmas Eve cleaning.
Then everyone takes a bath or shower cause everyone has to be nice and clean. After that we put on our nicest clothes and dress shoes and I put my make up on. At 6 o'clock on the dot we sit down to eat dinner. We (family in Iceland) listen to Christmas mass on the radio as we are eating. After dinner is done we clean up (this is the BIG rule in our house and all the kids love when we get to break it) and as soon as the kitchen is back to being spotless we go open presents.
When opening the presents we try to keep it really nice and neat and one person reads off the names and one person hands the presents out. Everyone watches while a present is being opened and pictures are taken and then we move on to the next present. I remember when I was a little girl I used to feel like it took us hours to open presents (maybe it did) but we also spent Christmas Eve at my Grandparents house and the whole family was there.
After presents are opened we have desert and everyone takes plays with what they got and admire each others presents. After that the kids take their presents to their rooms and get ready for bed (at this time it is around midnight) because Santa is coming soon.
Christmas morning we go downstairs to see what Santa left for the kids and then we eat something yummy for breakfast. We stay in our

PJs

for the whole day and have a good dinner that day as well.
When I was little we used to go see family on Christmas day but since I live here in VA with no family around, Dewayne and I have made our own traditions. I can't wait to be around family again though so we can do something fun on Christmas day again.
3. Are you big on keeping tradition every year?
There is no breaking tradition!!!



4.
Do colored lights or white lights tickle your fancy?
White lights!!! My tree has to have white lights on it and my windows have red lights in them. My outside is all white lights as well.

5. Do you decorate outside your house for Christmas?
I have every year except this year we are not going to because we are moving. Last year a lot of our lights were destroyed so we threw them out and this year I do not want to buy a whole bunch of new lights and we won't be here next year and I have no idea what my home will look like next year. I think it looks so plain outside this year though :o(
Well that was fun as always. If you want to play along it is not too late. Just click on the button above or right here to head over to Mama M's blog.