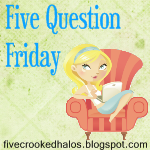 Today is Five Question Friday which is a blog carnival created by
Mama M
. After reading the answers to my 5 Questions click on the button above or on
Mama M's
name to head over to her page and play along.
1. What were you doing the last time you really had a good laugh?
I can't remember the last time I had a really good laugh....wow that's sad!!! Guess I am going to have to do something exciting this weekend to have a really good laugh. Well with Halloween tomorrow I am sure there will be plenty to laugh about :o)
2. Who was your
first

CELEBRITY crush?
Tupac

!!! I loved that man and was so crushed when he died :o( I thought I was going to marry him....
3. What is one talent that you wish you had?
I wish I could cook like a pro!!! I am trying to cook and be good about it but dang it, it does not come naturally for me!
4. How often do you and your spouse go out w/o the kids? Is it frequent enough?
What is going out without kids mean??? No I am just kidding, we

definitely

don't do it often enough and we probably go out without the boys once a month or once every two months.....

oohh

man that is really sad. We have always wanted to have a date night once a week or so and never end up doing it. Something always comes up and we cancel our date night.
5. What colour(s) is your bedroom?
My bedroom walls are white but my comforter, bed skirt, curtains, throw pillows and decoration is different shades of green and tan. I love olive green and that is the main color in the room.
Well that was fun right?? It was for me

at least

:o) Again if you want to play along head over to Mama M's blog. Have a great weekend :o)