It's Friday....I would be happier if I didn't have to work this weekend :o( It's almost 12:30 and I have been working since 5:30 this morning...this day is
soooooooooooooo
long already!!! I have a headache that won't go away no matter how much water I drink and I took two Motrin already ugh!! I need a nap!!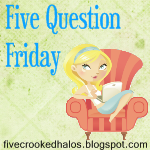 The best part of it being Friday is that Mama M over at My Little life has a great blog hop that she hosts on Friday's called Five question Friday. If you want to play along just click on the button above and the wonderful world of
internet
magic will whisk you off to Mama M's blog.
Now on to the questions....
1.
What is one food you could eat everyday?
Chick

Fil

A..........

ummmm

I really miss Chick

Fil

A.
2.
Are you working in the career you thought you would be when you were 18?
No!!! I never thought I would be working for Hertz rental cars. Who grows up thinking they are going to be anything other than a Doctor or a Lawyer, President or a Astronaut???
3.
What is something that you wish you would have done when you were younger and you didn't?
Waited to have kids

LOL

!!! I had my first son at 16 and if I was to do it all over again I would wait until I was grown to have kids. Then I would grow up to go to college, travel the world and then get a good job and buy a house with a pool in the back yard (I tell my sons all the time that when you go to college before you have kids you will be able to have a pool in the back yard :o).
4.
What color are your kitchen walls?
They are very white....I am getting ready to paint them when my home gets the Extreme Home Makeover.
5. Do you remember what your very first favorite song was?
I can remember that I LOVED Michael Jackson when I was little. BAD was a great Tape (yep, I'm old....there were no

CD's

when I was little, they came later when I was a teenager :o).