***EDIT***
This was supposed to post on Friday and I just realized it didn't. Sorry :o) It's up now!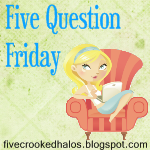 Friday....what a great day :o) I am off and I am shopping...does it get any better than that? Well, I can think of one great thing to do on Fridays....Mama M over at My Little Life has a blog hop (meme
LOL
) called Five Question Friday! What....you've never heard of it?? Where have you been??? Push the button above and join the fun...you won't regret it :o)
Now on to the well thought out questions from Mama M.
1.
What is one thing you miss the most about childhood?
Not having to pay bills and my

Mamma

cooking all the meals :o)
2. Are you still friends with your friends from high school?
Thanks to

Myspace

(before I knew about

facebook

...now it is all about

facebook

) yes I am. Through

Myspace

we found each other and I have met up with several of them :o)
3. Is there a catch phrase, cliche, or word that just drives you bonkers every time you hear it?
Nah, I can't think of any. I have a teenager in the house...I can't get hung up on stuff like that. I would go bonkers then :o)
4. What is one thing that you think symbolizes America...besides "Old Glory"?
The military!!! After being a military brat (child of military parent or parents) and a Navy Wife I think the military symbolizes America. Where would we be without them???
5. What are your 4

th

of July weekend plans?
Being that I am in Iceland and we don't celebrate American Independence day I will be celebrating another way....my niece Isabella is turning 7 years old on Sunday and I will be there to watch her blow out her Birthday candles and make her wish. I have missed way too many birthdays and I love that I get to be here for this one!!!