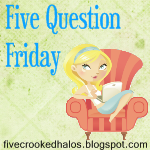 It is finally Friday and you all should know by now what that means....Five Question Friday!!! 5
QF
is a blog carnival created by Mama M over at
My Little Life
. If you would like to play along or just read
everyone's
answers just click on the button above or right
here
. Have fun!!
Now on to the questions :o)
1.
What's your "comfort food"?
Chocolate!!! But I have to say that I do love good

ol'fashioned

home cooked

leftovers too. When I am feeling down in the dump, I just want to get some more dinner and eat it. Or I want Chocolate!!! I try not to do either though cause um...that would be why I need to loose weight!!!
2.
Do you send Thank

You's

(handwritten or email)?
No, I am one of those horrible people who do not send Thank you notes. I am from Iceland though and we don't do that there. I was never raised with Thank you notes. I just call and say Thank you or tell the person when they give me the present :o)
3.
If you had to be trapped in a TV show for a month, which show would you choose?
The Biggest Loser!!! I love that show and would love to meet Bob, Jillian and Ally. Besides, imagine how good I would look after being trapped at the Biggest Loser campus for a month!!!



4.
What is your favorite online recipe site?
I am really getting into the Pioneer Woman. Other than that I just Google what I want a recipe for and go from there.



5. If you had to choose: "Friends" or "Seinfeld"?
Friends hands down!!!! I loved that show and watched it every Thursday!!! I really miss that show too. I have seen every episode and I watch the re-runs all the time. That really was a great show :o)
My internet is so slow I was not able to get the MckLinky code (it won't even load on Mama M's page for me). I had to go online on my cell phone to add my name to the MckLinky.