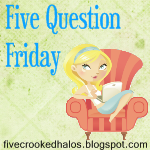 It is 11 something at night and I am doing 5
QF
early since
Mama M
now posts the questions the night before...I think I like that :o)
If you want to play along just click on the button above.
Here are this weeks questions....
1. Did you pass your driver's test on the first try?
Ummmm

, NO!!! I passed it on the third try...yeah you read that right, 3rd try!!! You see, my parents had this mini van that I learned to drive and the reverse didn't work too well so when I went to take my test the first two times I had my friends car and she had a huge spoiler and I was too afraid to back up properly when

parallel

parking because I couldn't see past the spoiler that the mean man failed me!!!
The third time I had bought my own car and I passed with flying colors!
2. What is your most embarrassing moment?
I dunno! Maybe telling you all that it took me three tries to pass my driving test after having had a learners permit for over a year!! Yeah, over a year!!
Hey look what I just

accidentally

learned on my keyboard
Yup, it's upside down exclamation marks!!! I love them!
Maybe this was kinda an embarrassing moment! I'm kind of a dork and I don't know if you have gotten that yet reading my blog :o)
3. What TV show would you like to be on- Oprah, Biggest Loser, or What Not to Wear?
BIGGEST LOSER!!!! I have thought about gaining weight just to go on the show!!! Okay, I wouldn't gain the weight just to get on the show but, I WANT TO GO ON THE SHOW!!!
They had try outs here in Chicago a few weeks ago and I really wanted to go...I just don't think they would take an average overweight person anymore after they have had such big contestants. Not that there is anything wrong with big contestants :o)
4. Would you ever get plastic surgery and what kind?
Yep!! Are you kidding me...if I had the money I would have a lot of work done. I would have a boob job. I just want a fill, having kids kinda deflated my balloons.
I would have a tummy tuck, having kids kinda made my stomach flabby!
I would have butt implants, not having a butt sucks!!! No, my having kids had nothing to do with my booty! I have never had one and have always wanted a bubble butt :o)
5. What are your favorite jeans to wear?
I have a few favorites. I used to love

Mudd

when I was younger and still do but at the moment I have none. I like

Vigoss

and I like South Pole jeans too.
Well this sure was fun. How bout you go on and play along too :o)