I gotta tell you, I am starting to feel really bad about the amount of time I am spending AWAY from my blog. I spend the whole day thinking about my blog and all of my
bloggy
friends and wish I could be sitting in front of my computer reading what you wonderful ladies have to write about. Don't get me wrong, I have had a whole
lotta
fun this last week!!! I have gotten to know Dewayne's family much better than ever before, I have made a friend and I have gotten my baby girl fix! Yep, I have been smooching a little 7 month old baby girl for the last week and I am really loving it :o)
Today we went to the Museum of Science and Industry and I have to say, I had a blast!!! I have never really been to a Museum, I did go to an Aztec Museum when I was like 10 or 11 but that's it. This Museum was so much fun and as soon as
Tyrique
and Markus have a day off from school I am going to take them!!! I didn't think the boys would enjoy it but, boy was I wrong!! The Museum is so hands on and there is so much awesome stuff there for everyone to enjoy. I loved it and can't wait to go again!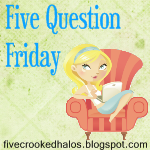 Now before I get to the questions I want to say Hello to everyone coming over from Friday Follow! I am really excited to get to know you all a little better :o) Now you all know what time it is, right?? Time for Five Question Friday!!!! Mama M over at
My Little Life
came up with this wonderful blog hop. If you want to play along just click on the button above or right
here
and you will be
whisked
away to Mama M's blog!
1.
What's your guilty pleasure?
Right now my guilty pleasure is Lemonade!!! I love Lemonade and I have been drinking it like it is coming out of the faucet (free) lately. I just can't help it, I love the sweet yet sour taste of it!

Ummmm

, yummy!
2. What is your favorite TV series?
It's a toss up between Army Wives and Grey's Anatomy. I love both shows :o)
3. Can you speak any foreign languages?
English is a foreign language to me!! Icelandic is my primary language and English is my secondary language. So, basically the answer to that question is...YES, I can speak another language ")
4. How many pairs of shoes do you own?
I have quite a few pairs. Maybe 30+ pair of shoes. I can tell you that it is

definitely

not enough shoes for me. You can never own too many shoes!!!
5. What's your favorite kind of M&M's...peanut, almond, straight up regular, etc.?
I like the plain

ol

' M&M's. I used to love the blue bag that had the rice crispy thing in the center but I have not seen that kind in years. I usually just get the regular brown bag :o)