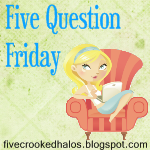 Mama M over at My Little Life has a great blog hop on Fridays called Five Question Friday or 5QF. It is so simple to play along, she does all the hard work. She asks the questions and we answer them....can it get easier than that? Now, if you would like to play along all you have to do is click right
here
OR .
Here are this weeks questions.
1. What do you think makes a good friend, or friendship?
Honesty, a good sense of humor, loyalty, trust and of course we have to get along LOL!!! I can get along with most people but it takes a special someone to become a good friend or a best friend. I love to talk and can talk forever....my friend has to be able to keep up with me :o) All of my friends are wonderful and I wouldn´t trade them for anything in the world.
2. What is the last thing you bought & later regretted?
I haven´t bought anything in so long that I don´t know anything to write on here!! Is that a good thing or is it a bad thing?
3. Have you ever had a prank played on you?
Not that I can think of. I´m sure there has been some sort of prank played on me but I can´t think of anything at the moment.
4. What is your favorite theme park?
My favorite theme park of all times is Hershey Park in Hershey, PA. We used to go when I was younger and I loved it!! There is a roller coaster there called The Great Bear, it is the kind of roller coaster where there is nothing under your feet. I loved it! I haven´t been on a roller coaster in almost 10 years though. I am too scared to get on a roller coaster.
5. Have you ever seen someone else give birth?
Yes I have! I had a friend who I got to be a part of both of her sons births. When she delivered her second son she was having some problems in the end. She had been in labor for a long time and she was too tired to push (she had been pushing for hours at this point) and the Dr. was going to do a c-section. I sat down on the stool between her legs and told her that if I were to put my finger inside I would be able to touch the babies head. Then after each time she pushed I showed her on my finger how much she had pushed the babies head down. When the baby started crowning the Dr. switched me spots and she delivered her son vaginally. The Dr. gave me endless praise and everyone else did too. It felt so good to be a part of that birth :o)
The other birth I was at was my nephew Diamonds birth. My sister was induced on December 28, 2004 at 7 am and her husband, our Mamma and I sat with her the whole day. She did a great job but by about 6 pm the baby was not making any progress. She was not dialating and the baby was starting to show some signs of stress so the Dr. told her he was going to perform a c-section. The Dr. left the room and we were talking and all of a sudden my sister said she felt some pressure. I asked her if I should go get the Dr. but she said no. At a little after 6:20 pm my sister told us that she felt a lot of pressure so I went to the hall and told them to get the Dr. because she felt pressure. The Dr. came into the room just in time to deliver my beautiful little nephew Diamond. He weighed in at 9 lbs 10 oz and was 21 3/4 inches long. It was one of the proudest moments of my life. I wasn´t there to witness the birth of his older sister Bella (we lived in two different countries) but I was so proud and honored to get to be a part of Diamonds birth.