It is Friday and I am on my way out the door to go shopping!!! I have done so much shopping with my
Mamma
here though that I will be okay if I do not go shopping for a long time after she leaves :o) But, before I go I HAVE to do Five Question Friday!!! 5
QF
is a blog carnival created by Mama M at My Little Life. If you want to play along just click on the button below or click right
HERE
. Have fun!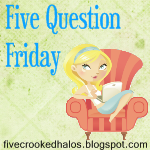 1. Have you ever hit an animal with your vehicle?
Yes, I hit a bird driving a rental truck one time with my brother in law. I started freaking out and he laughed at me and said YUM dinner.

Uuggghhh

gross!
2. When you see a string on your clothes do you pull it off or cut if off?
I pull it off! When I see a string on

anyones

clothes I want to automatically pull it off :o)
3. Did you have your own room or share a room when you were young?
I had my own room and I had to share. My sister and I are really close though and most of the times we had our own room but slept together.
4. Would you rather wear the same thing for the rest of your life or eat the same thing for the rest of your life?
Wear the same thing for the rest of my life! I can always make it look cute with the right accessories. I love food and would never want to give up my favorites :-P
5. What was your favorite TV show as a child?
Dr. Quinn Medicine Woman!! I loved that show and we never missed it. My

Mamma

is going to buy the series today. We saw it at

Sam's

Club the other day and we have been talking about it since.