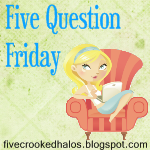 Well friends, it is finally here...the day I get to write my first 5
QF
post in my new home!!! It took a lot of blood, sweat and tears to get to this point but we are all settled in and as of about 8 PM last night, I have cable,
internet
and a phone (the phone is not quite working). I now feel like I am back in the real world and out of Box City. We do not have any boxes left upstairs and it feels great to walk around upstairs and everything is put away. I still have some work to do on my side of the basement, that is where I am going to have my craft corner.
Now, as you all should know by now, Five Question Friday is a blog carnival created by Mama M over at My Little Life. If you want to play along just click
here
. If you do not have a blog or just want to tell me the answers to the questions...just leave me a comment.
Okay, on with the questions :o)
1. What is the one thing your love does for you that you can't live without?
He keeps my toes warm at night. It's silly I know, but I love that I can always stick my

toesies

on him or under his

toesies

:o)
2. When did you know your love was "the one"?
It didn't take long for me to figure that out, about a month after we started dating I knew I was gonna marry him :o)
3. Does your love have a special

ringtone

on your cell?
Yes he does. It is a song called...Baby your my everything! I don't remember who sings it though...sorry :o)
4. What are you attracted to most in your special someone?
My husband is super sexy, what is there not to be attracted to?

LOL

. I love his sense of humor, he can always make me laugh. I can be mad about something or mad at him and he can make everything better and have me laughing in no time. I love that!
5. Did you know when/where he/she was going to pop the big question?
No, I had no idea!!! We were laying in bed and he told me that he loved me so much and couldn't see his life without me in it and told me he would marry me tomorrow if I agreed. The rest is history...we were married 3 months later and lived happily ever after :o)