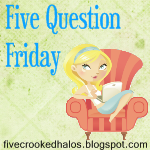 Mama M over at My Little Life created this wonderful blog hop called Five Question Friday. She asks the questions and we answer them....can it get any easier? If you want to play along all you have to do is click on the button above and have fun :o)
1. Who would you want to play you in a movie of your life?
Since there isn't really anything exciting to write about yet....yes, I wrote yet.....that movie star is probably not born yet. LOL I dunno who I would want to play me, maybe Jennifer Aniston....I like her. She's pretty.
2. Did you ever go to summer camp?
Nope. The only kind of camp I went to was either with church or my school. I can't remeber though cause it's been sooooo long!!!
3. What sends you running and screaming in the other direction?
Bugs...roaches, spiders, anything creepy and crawly scares the crapola out of me!!!
4. What is something you do that drives your spouse nuts?
That I cry over everything!!! I cry when I watch movies, I cry when I read a good book, I cry when I am happy, I cry when I am sad......you get the point right? I cry A LOT!!!
5. What is currently your favorite song?
Daddy's Home by Usher!!! I love that man song!!!